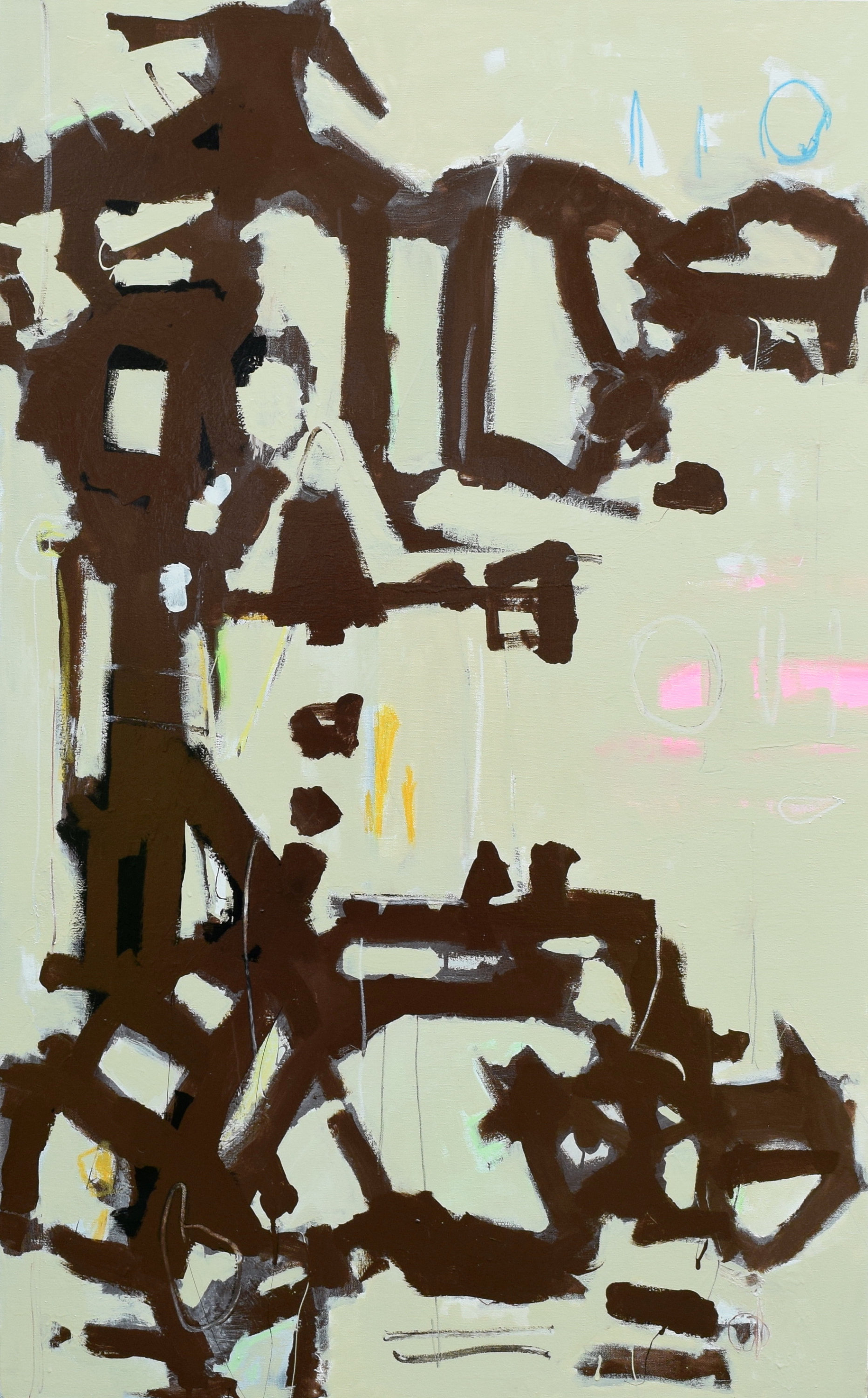 Details
TITLE //Higher Self
ARTIST // Jeffrey Bowman
SIZE // 48" x 30" x 1.5"
MEDIUM // oil and graphite on gallery wrapped canvas



This piece is signed, fitted with mounting wire, and ready to hang in your home.

If you purchase this piece, we'll create a character for you in Circaeus. Additional details upon request.

Thank you for your interest and support!

________

"Where does it all come from?", I asked Dye. He paused longer than usual. He looked small, almost subservient. His eyes softened, giving me his best Brando. He leaned over and answered, "The High Masters." His voice sounded archaic. I didn't want to lose the moment. I tried to harmonize with his tone, "are we constantly in their way?" He smiled, "constantly." He took out a canvas and a few jars of paint. I watched him close his eyes as his brush touched the canvas. With quick and sudden movements he began building a structure. It reminded me of making sandcastles as a child. I cursed the sea for destroying my worlds. My walls were never high enough, strong enough, and crumbled easily. Almost too easy, like the sand and the sea were both in on something. - Trust no one.

Dye reached the top of the canvas with this brown structure. This structure had balance, purpose, and leaned slightly towards feminine. This piece was beautiful. Suddle hints of green and yellow highlighted the architectural meditation. This painting was for a higher self. The pink was strong enough to keep the leaning structure rigid and upright. The blue scratches weighted the pink down keeping it centered. The blue circle wrapped back around moving the eye back down to the middle of the canvas. I had to see it closer. The sheen was teasing me against the soft light. Wizard blurted out, "Remarkable! Dye you've painted the blueprint to the Broken Castle. Well done, sir!"

I stood there in my confusion. I walked closer to the piece. I knew it was more than a blueprint. The brown was intentional against the sand. The traces of black was enough to make the brown that much more critical. The pencil lines were too perfectly clumsy and childish. I walked over to Dye, "I thought the piece was from The High Masters, I thought it was representing the higher self. It's a castle?" Dye winked, "We are constantly in the way."
Payments
Paypal payments and Etsy gift cards are preferred, but money orders and personal checks are accepted with additional processing time (approximately 10 business days).
Shipping from United States
// Packaging //

For buyers in the United States, stretched canvas paintings are carefully wrapped in glassine paper and bubble wrap, then packed securely in custom-built boxes (using recycled materials when possible) for shipping within 3-5 days of order.

For international buyers, stretched canvas paintings will be removed from the frame, carefully wrapped in glassine paper and plastic, and shipped in a tube within 3-5 days of order. Your local fine art framing specialist can provide options for hanging the work, from re-stretching to custom framing.

// Shipping //

Depending on location, artwork will be shipped via UPS, USPS, or FedEx with sufficient insurance and tracking. Your signature will be required to confirm delivery.

International buyers will be responsible for paying any applicable customs fees, taxes, or duties in their respective countries.


Refunds
Buyer satisfaction is very important to me and I am prepared to do whatever is necessary to ensure you are happy with your purchase.

If we cannot resolve any issues that arise with your order, we will accommodate cash or credit refunds within 10 days of purchase receipt. Buyers would be responsible for the safe return shipping of the artwork within 10 days before a return is processed.
Additional
Item photography attempts to replicate the colors, textures, and sheen of the artwork as accurately as possible, but please be advised that slight variations may exist when viewing these works in person.