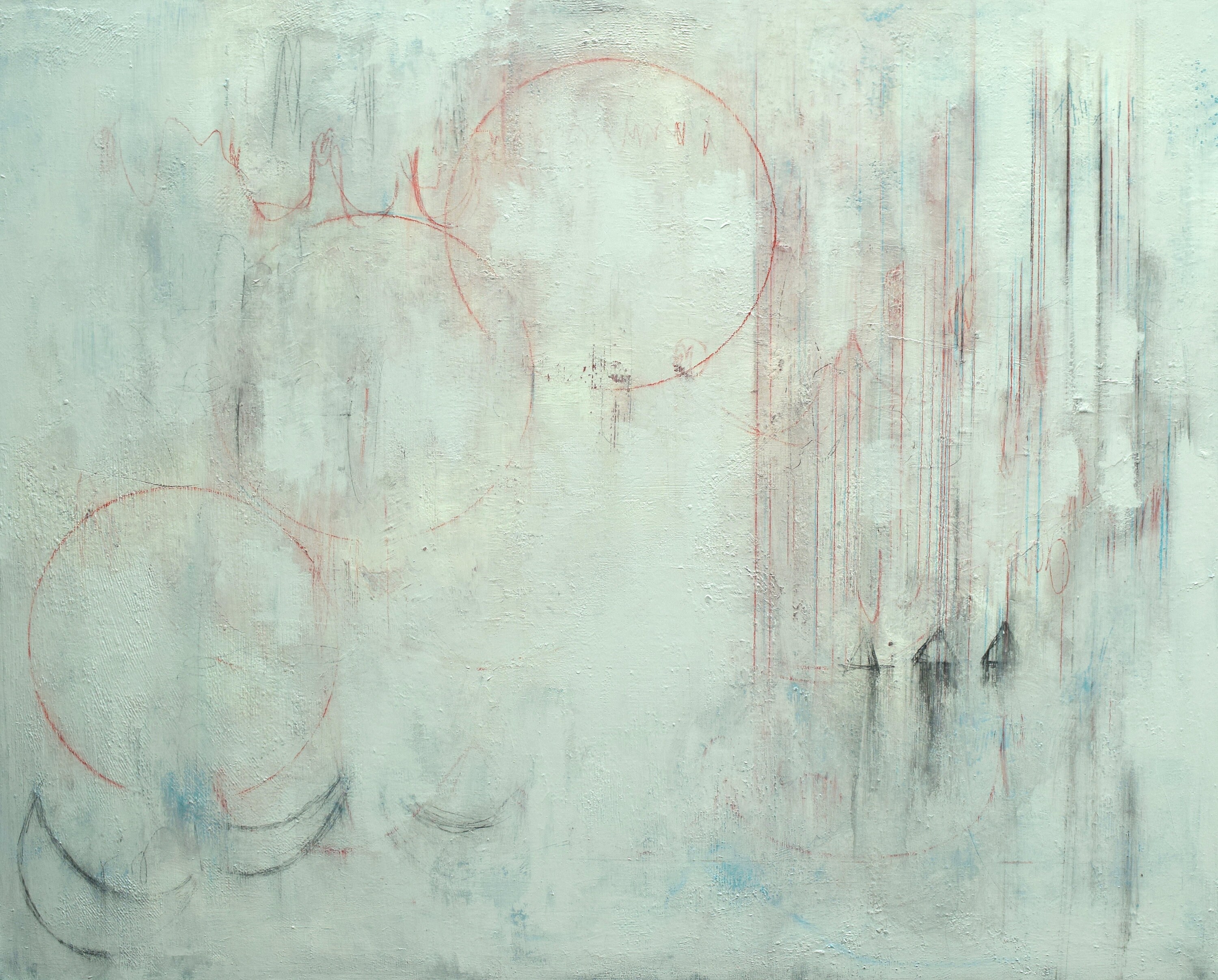 The Deep Waters
$2,000.00
Details
TITLE // The Deep Waters
ARTIST // Jeffrey Bowman
SIZE // 48"x60"x1.5"
MEDIUM // oil and graphite on gallery wrapped canvas



This piece is signed, fitted with mounting wire, and ready to hang in your home.

If you purchase this piece, we'll create a character for you in Circaeus. Additional details upon request.

Thank you for your interest and support!

________


The theater curtains closed and we settled in for what I thought was sleep. Disappointment was getting easier to swallow and was becoming the favorite bedtime story. My mind was racing, and the exhaustion felt more like fried frizzled speed. I noticed Dye watching me, and he looked nervous, or concerned. It's so hard to tell with him. I tried not to look uncomfortable and sit there, but panic and self-doubt had its grip, and I couldn't free myself from its grasp. I heard Wizard speak softly and more profoundly than his usual high pitched stutter. I closed my eyes and did what he asked. That's when it happened.

Everything went white, the primer. The deep water of the mind isn't dark here, its white. It's the unimagined, the clean canvas. The white began to crack and streak giving away to soft handwritten poetry in red. Someone asked me to explain what I was seeing. I believe it was Dye. I told him about the poem and the white decay. Different spots of sheen and texture became noticeable. I felt calm, peaceful. I was slipping in and out of consciousness. I tried to maintain focus. Three large circles appeared in red. Half moons would materialize then fade out along with three pyramid shapes. It reminded me of Appalla. Blue and red lines would fall like rain, and the entire vision would start over again. I must have fallen asleep after that, the experience was remarkable. When I woke Dye had painted a piece using my descriptions, it was perfect. Utterly confusing and magical, just how I've grown to love.
Payments
Paypal payments and Etsy gift cards are preferred, but money orders and personal checks are accepted with additional processing time (approximately 10 business days).
Shipping from United States
// Packaging //

For buyers in the United States, stretched canvas paintings are carefully wrapped in glassine paper and bubble wrap, then packed securely in custom-built boxes (using recycled materials when possible) for shipping within 3-5 days of order.

For international buyers, stretched canvas paintings will be removed from the frame, carefully wrapped in glassine paper and plastic, and shipped in a tube within 3-5 days of order. Your local fine art framing specialist can provide options for hanging the work, from re-stretching to custom framing.

// Shipping //

Depending on location, artwork will be shipped via UPS, USPS, or FedEx with sufficient insurance and tracking. Your signature will be required to confirm delivery.

International buyers will be responsible for paying any applicable customs fees, taxes, or duties in their respective countries.


Refunds
Buyer satisfaction is very important to me and I am prepared to do whatever is necessary to ensure you are happy with your purchase.

If we cannot resolve any issues that arise with your order, we will accommodate cash or credit refunds within 10 days of purchase receipt. Buyers would be responsible for the safe return shipping of the artwork within 10 days before a return is processed.
Additional
Item photography attempts to replicate the colors, textures, and sheen of the artwork as accurately as possible, but please be advised that slight variations may exist when viewing these works in person.