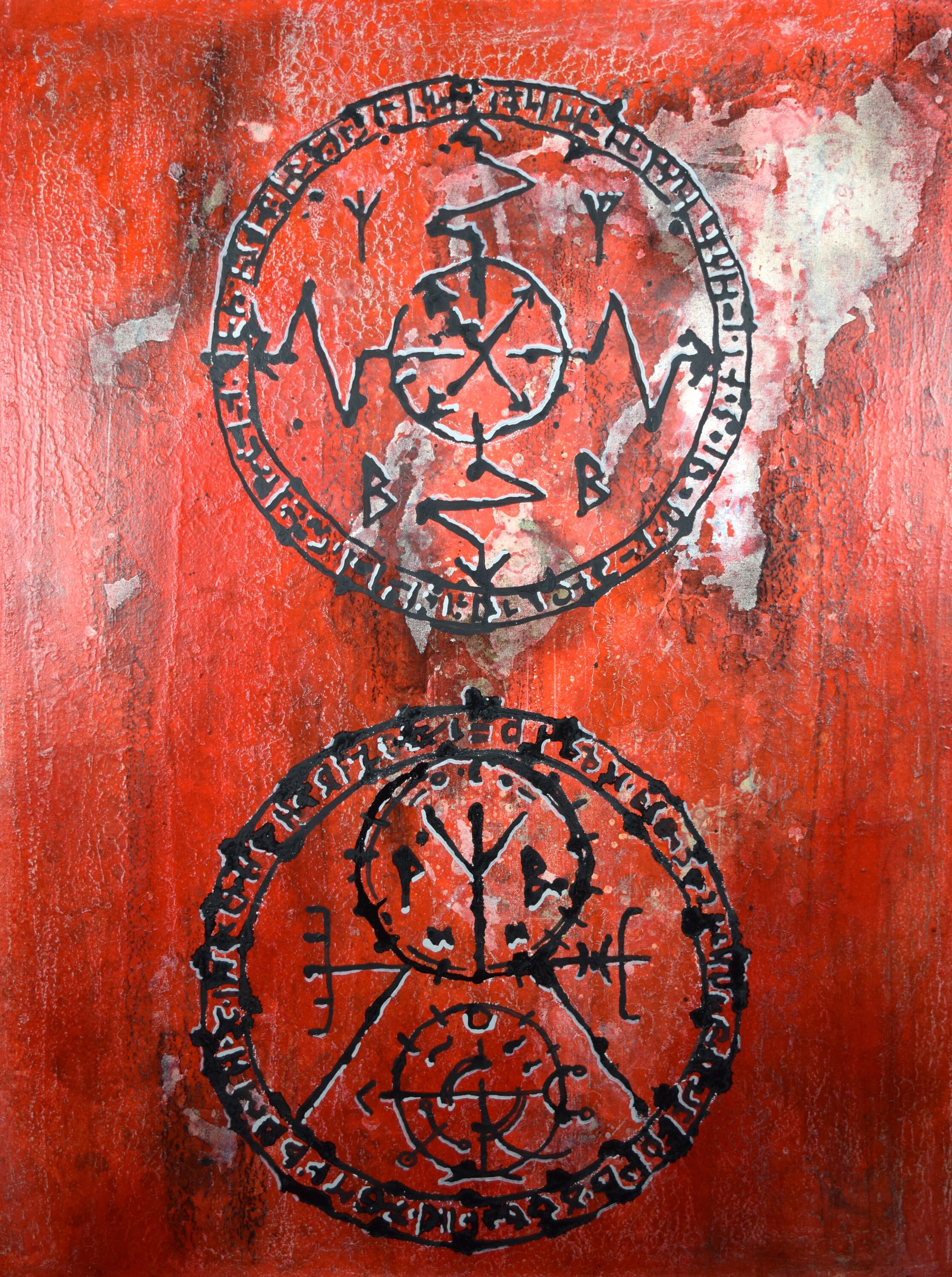 Details
TITLE // Two Sigils
ARTIST // Jeffrey Bowman
SIZE // 40" x 30" x1.5"
MEDIUM // oil and graphite on gallery wrapped canvas

This piece is signed, fitted with mounting wire, and ready to hang in your home.

If you purchase this piece, we'll create a character for you in Circaeus. Additional details upon request.

Thank you for your interest and support!

________

Madam Nestings woke me the morning we departed the great city of Bellyonna. She moved with careful precision pulling my covers back. I would have been alarmed if it was anyone else but with her, it seduction was welcomed. I couldn't break eye contact with her. I wasn't sure if I was trying to, but the idea of looking at anything seemed silly and pointless. She whispered something in her language. A language that resonated with magick and a cadence that was demanding. The room began to haze, and the hard edges of the room rounded and turned red. I gasped for air that should have been there but it wasn't and the intense moment released me.

She smiled, "Being in the pudding isn't for everyone dear, but you're learning. I want you boys to take this." She held up a magical piece of art. It was red with two sigils in black and white. It was ominous and had a presence about it that was familiar to the Madam. She explained, "One sigil sucks negative energy while the other blows positive energy. It brings balance, and I think it should leave this realm and venture into the chaotic world our dear Wizard is from, what do you think?" I shook my head and agreed with her, speaking at that moment would have somehow tainted all the beauty she had created. I smiled and let her radiance and power destroy me.
Payments
Paypal payments and Etsy gift cards are preferred, but money orders and personal checks are accepted with additional processing time (approximately 10 business days).
Shipping from United States
// Packaging //

For buyers in the United States, stretched canvas paintings are carefully wrapped in glassine paper and bubble wrap, then packed securely in custom-built boxes (using recycled materials when possible) for shipping within 3-5 days of order.

For international buyers, stretched canvas paintings will be removed from the frame, carefully wrapped in glassine paper and plastic, and shipped in a tube within 3-5 days of order. Your local fine art framing specialist can provide options for hanging the work, from re-stretching to custom framing.

// Shipping //

Depending on location, artwork will be shipped via UPS, USPS, or FedEx with sufficient insurance and tracking. Your signature will be required to confirm delivery.

International buyers will be responsible for paying any applicable customs fees, taxes, or duties in their respective countries.


Refunds
Buyer satisfaction is very important to me and I am prepared to do whatever is necessary to ensure you are happy with your purchase.

If we cannot resolve any issues that arise with your order, we will accommodate cash or credit refunds within 10 days of purchase receipt. Buyers would be responsible for the safe return shipping of the artwork within 10 days before a return is processed.
Additional
Item photography attempts to replicate the colors, textures, and sheen of the artwork as accurately as possible, but please be advised that slight variations may exist when viewing these works in person.