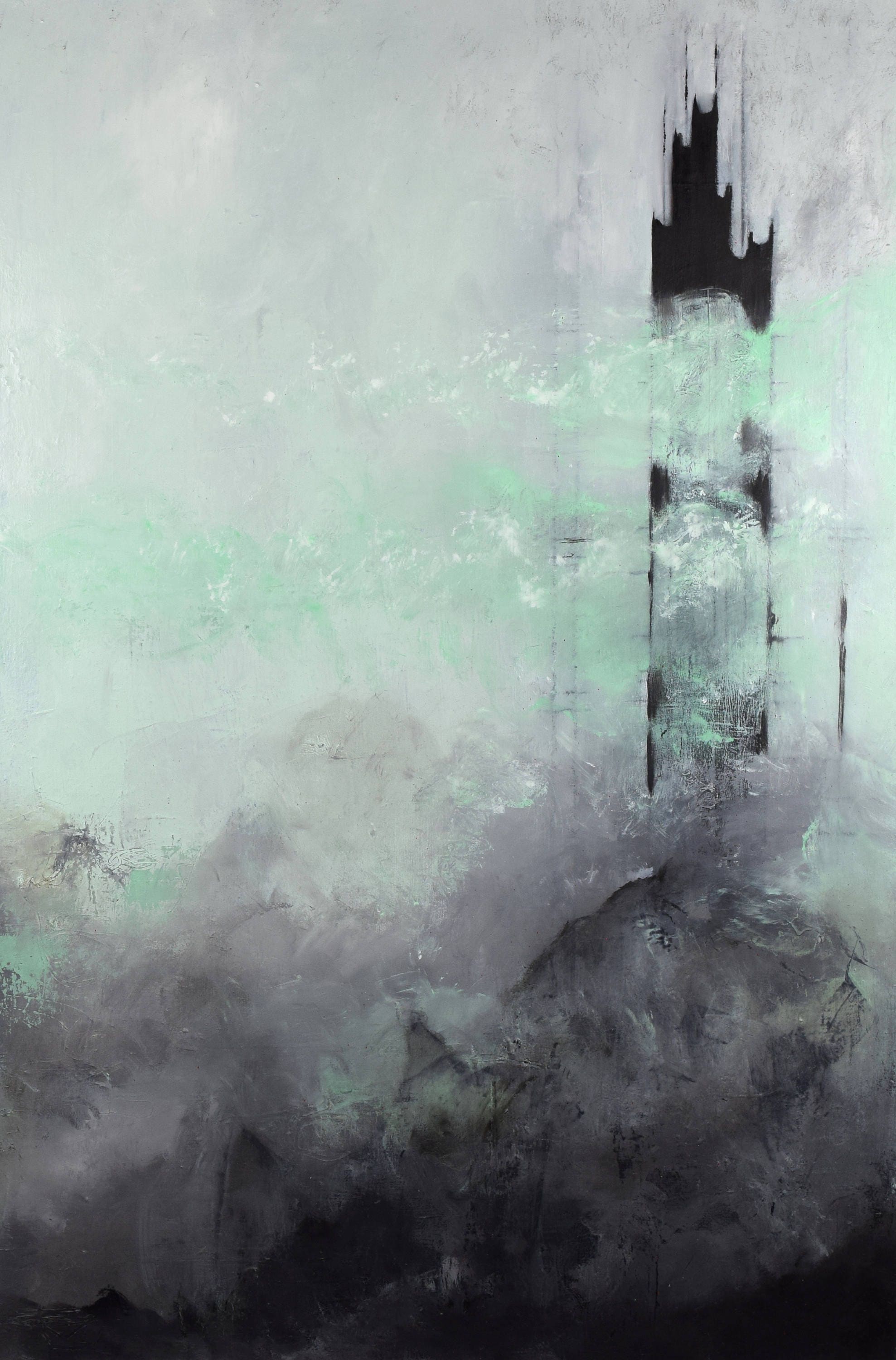 Details
TITLE // The Sorcerer's Tower
ARTIST // Jeffrey Bowman
SIZE // 24" x 36" x 1.5"
MEDIUM // oil and graphite on gallery wrapped canvas

This piece is signed, fitted with mounting wire, and ready to hang in your home.

If you purchase this piece, we'll create a character for you in Circaeus. Additional details upon request.

Thank you for your interest and support!

________

I couldn't sleep that night. The idea of climbing a mountain didn't seem appealing much less possible. Dye assured me that the feat could be achieved. I guess if you live your life as a wizard, anything is possible. I should probably remember that. We left before the two suns started their climb. Dye was mumbling something resembling a spell. I let him mutter hoping whatever he was doing would aid me in my ascent. My hands were as wet as the air, and I thought to myself that wet hands could be a convenient excuse. I am forever padding my failures.

As we approached the base of the mountain Dye's mumblings became louder. To the point of me worrying about it giving up our location. I touched his shoulder, and it all went white. The Primer. When my visioned returned, I was standing on the mountain peak looking at a tower. Dye whispered, "You might want to move away from the edge and sit down." I shuffled my way back to his location. "What the hell happened?"I asked. Dye smiled,"magic." I was alarmed and somewhat angered. However, I felt the anger dissipate when I realized I had achieved the climb after all. A victory is a victory, don't let your ego tell you different.

I watched Dye document our view. While he painted on the small canvas, he was whispering. It sounded sweet and playful. He was talking to the green, and she answered him. A green mist slowly started covering the tower. Dye painted the green to the painting. The fog hugged the tower. It would act as the hand holding the target still. He added lines to serve as measurements along the side of the tower to help guide his arrows. The piece should have been more significant, the size of the tower was remarkable. However, in our situation, I should be happy he's painting anything at all. The moment seemed to tense for me to think of anything artistic. Dye studied his markings. He held up a thumb and moved it up and down the tower. He was confident. The green would continue her attack on the tower. Her heavy embrace would leave the sorcerer vulnerable to our offense. I noticed my hands balled into a tight fist. This, this is the calm.
Payments
Paypal payments and Etsy gift cards are preferred, but money orders and personal checks are accepted with additional processing time (approximately 10 business days).
Shipping from United States
// Packaging //

For buyers in the United States, stretched canvas paintings are carefully wrapped in glassine paper and bubble wrap, then packed securely in custom-built boxes (using recycled materials when possible) for shipping within 3-5 days of order.

For international buyers, stretched canvas paintings will be removed from the frame, carefully wrapped in glassine paper and plastic, and shipped in a tube within 3-5 days of order. Your local fine art framing specialist can provide options for hanging the work, from re-stretching to custom framing.

// Shipping //

Depending on location, artwork will be shipped via UPS, USPS, or FedEx with sufficient insurance and tracking. Your signature will be required to confirm delivery.

International buyers will be responsible for paying any applicable customs fees, taxes, or duties in their respective countries.


Refunds
Buyer satisfaction is very important to me and I am prepared to do whatever is necessary to ensure you are happy with your purchase.

If we cannot resolve any issues that arise with your order, we will accommodate cash or credit refunds within 10 days of purchase receipt. Buyers would be responsible for the safe return shipping of the artwork within 10 days before a return is processed.
Additional
Item photography attempts to replicate the colors, textures, and sheen of the artwork as accurately as possible, but please be advised that slight variations may exist when viewing these works in person.