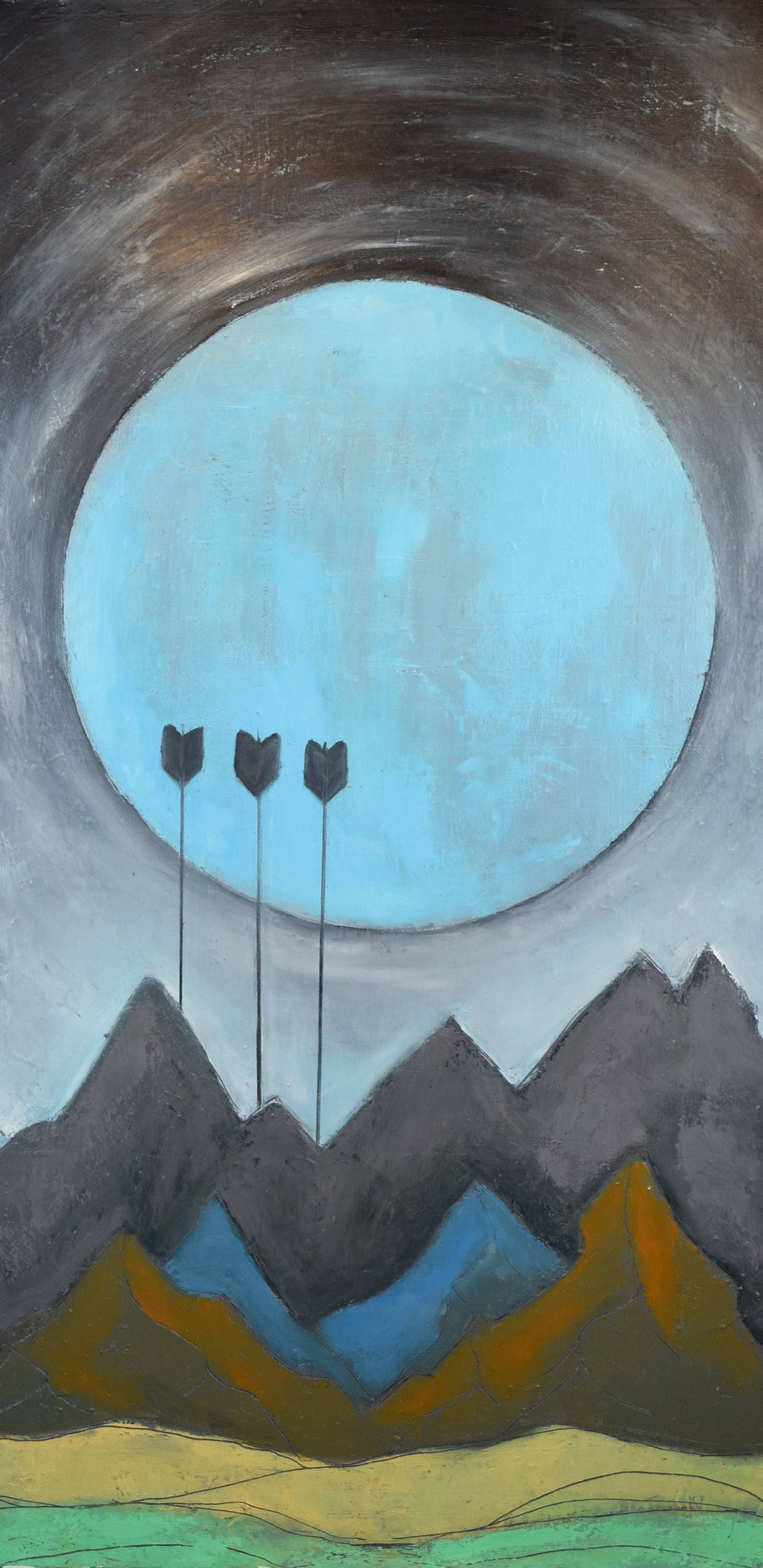 The God's Grouping
$650.00
Details
TITLE // The God's Grouping
ARTIST // Jeffrey Bowman
SIZE // 48" x 24" x 1.5"
MEDIUM // oil and graphite on gallery wrapped canvas

This piece is signed, fitted with mounting wire, and ready to hang in your home.

If you purchase this piece, we'll create a character for you in Circaeus. Additional details upon request.

Thank you for your interest and support!

________

The day's journey was sweet and yellow. We followed cornfields once we walked down past the frost line. Long rows of yellow guided us over gentle hills and crossing several streams. The air seemed fuzzy. The wind would blow sugar dust from the tips of the corn on to our lips. The landscape started to swell towards midday. The yellow would be interrupted by large clumps of green. I was licking my chapped lips when I noticed something peaking through the clouds. I panicked, "Stop!" Dye had an arrow ready by the time I came to a rest. The rest of them looked back at me available for orders. I watched the last cloud pull away three giant arrows sticking up from the backside of a mountain range. I pointed upwards. Dye looked up and instantly relaxed, "That's the God's grouping."

Dye disarmed and took a deep breath. He explained, "Years ago the God's attacked Wizard. It was before my time, before any of our time. He battled the God's and was apparently victorious. The arrows remain as a trophy, as our trophy." The clouds gave way to the first moon rising. The first moon is soft and blue and when she starts her climb the day is over. The three large arrows stood at attention awaiting her spotlight. I convinced Dye that he could capture this moment. By the time he was painting the arrows, the first moon was just leaving them. The show was almost over. We cheered loudly into the darkness. Our voices, unchallenged.
Payments
Paypal payments and Etsy gift cards are preferred, but money orders and personal checks are accepted with additional processing time (approximately 10 business days).
Shipping from United States
// Packaging //

For buyers in the United States, stretched canvas paintings are carefully wrapped in glassine paper and bubble wrap, then packed securely in custom-built boxes (using recycled materials when possible) for shipping within 3-5 days of order.

For international buyers, stretched canvas paintings will be removed from the frame, carefully wrapped in glassine paper and plastic, and shipped in a tube within 3-5 days of order. Your local fine art framing specialist can provide options for hanging the work, from re-stretching to custom framing.

// Shipping //

Depending on location, artwork will be shipped via UPS, USPS, or FedEx with sufficient insurance and tracking. Your signature will be required to confirm delivery.

International buyers will be responsible for paying any applicable customs fees, taxes, or duties in their respective countries.


Refunds
Buyer satisfaction is very important to me and I am prepared to do whatever is necessary to ensure you are happy with your purchase.

If we cannot resolve any issues that arise with your order, we will accommodate cash or credit refunds within 10 days of purchase receipt. Buyers would be responsible for the safe return shipping of the artwork within 10 days before a return is processed.
Additional
Item photography attempts to replicate the colors, textures, and sheen of the artwork as accurately as possible, but please be advised that slight variations may exist when viewing these works in person.