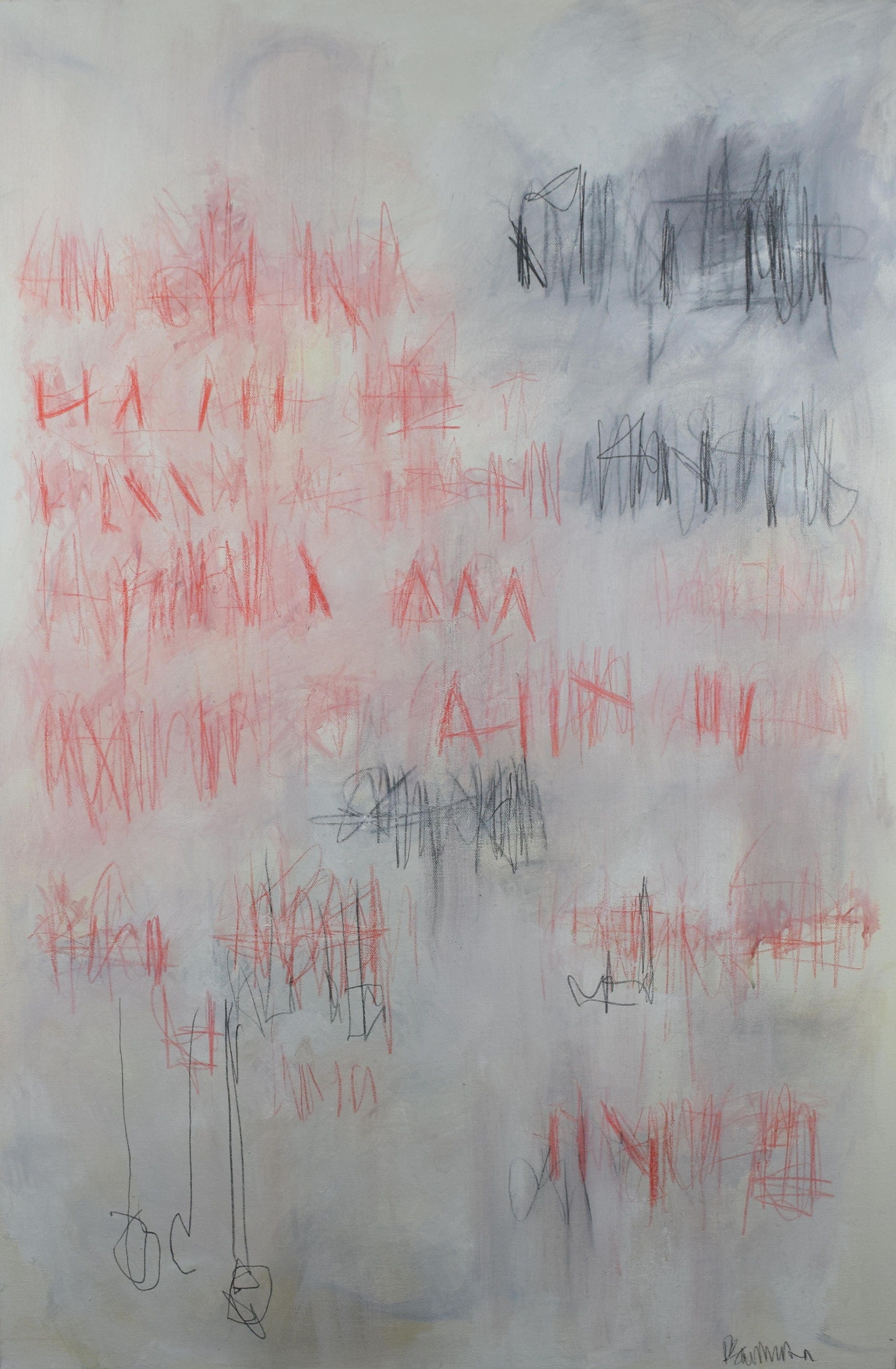 Awareness Kills the Romantic
$450.00
Details
TITLE // Awareness Kills the Romantic ARTIST // Jeffrey Bowman
SIZE // 24" x 36" x 1"
MEDIUM // oil. graphite. on canvas

If you purchase this piece, we'll create a character for you in Circaeus. Additional details upon request.

This piece is signed and dated on the back. It is fitted with mounting wire and ready to hang in your home.

Thank you for your interest and support!

________

That morning I was writing something that resembled poetry. The two suns rising over the hills seen from our window created something of a muse. The safety I feel in this group isn't like anything I have ever felt. The lack of judgment and connection I have with them is remarkable. I know I have mentioned this before but its a crucial part of this adventure. Finding peace within myself has allowed a specific door to open. I feel confident in creating again. The confidence I thought drowned in my attempts to medicate myself. I was damaged and put my early friends through a ridiculous amount of unwanted drama. I was so embarrassed that visiting my hometown would cause panic attacks. I thought I would turn back into that person or the unsettling idea of meeting someone from my past. I would want to apologize but that would be awkward, it seems that it's always awkward for me.

Dye slid into the conversation, " some things aren't very poetic are they?" I shook my head no. He added, "forgive your past, forgive yourself. The same way you forgave those who harmed you. Things are continually changing, especially us. We are not the same creature that existed back then and the past doesn't recognize us. That's the disconnect we now feel, that's the mystery. Let it be beautiful." I could feel my face smiling. Dye sometimes sounds like Wizard and it's confusing. He handed me a small abstract piece. It was dreamy, very romantic and almost resembled a poem. Maybe that's why I am the recipient? He stated, " Becoming aware makes childish dreams seem silly, we have to reinvent the muse. We can't cry because she doesn't love us. We now know that she has her adventure and the connection we have towards her is ours, not hers. We have to let the muse breathe, it's not about our ego anymore, and it never was." He looked down at the piece and said, "Awareness kills the romantic."
Payments
Paypal payments and Etsy gift cards are preferred, but money orders and personal checks are accepted with additional processing time (approximately 10 business days).
Shipping from United States
// Packaging //

For buyers in the United States, stretched canvas paintings are carefully wrapped in glassine paper and bubble wrap, then packed securely in custom-built boxes (using recycled materials when possible) for shipping within 3-5 days of order.

For international buyers, stretched canvas paintings will be removed from the frame, carefully wrapped in glassine paper and plastic, and shipped in a tube within 3-5 days of order. Your local fine art framing specialist can provide options for hanging the work, from re-stretching to custom framing.

// Shipping //

Depending on location, artwork will be shipped via UPS, USPS, or FedEx with sufficient insurance and tracking. Your signature will be required to confirm delivery.

International buyers will be responsible for paying any applicable customs fees, taxes, or duties in their respective countries.


Refunds
Buyer satisfaction is very important to me and I am prepared to do whatever is necessary to ensure you are happy with your purchase.

If we cannot resolve any issues that arise with your order, we will accommodate cash or credit refunds within 10 days of purchase receipt. Buyers would be responsible for the safe return shipping of the artwork within 10 days before a return is processed.
Additional
Item photography attempts to replicate the colors, textures, and sheen of the artwork as accurately as possible, but please be advised that slight variations may exist when viewing these works in person.