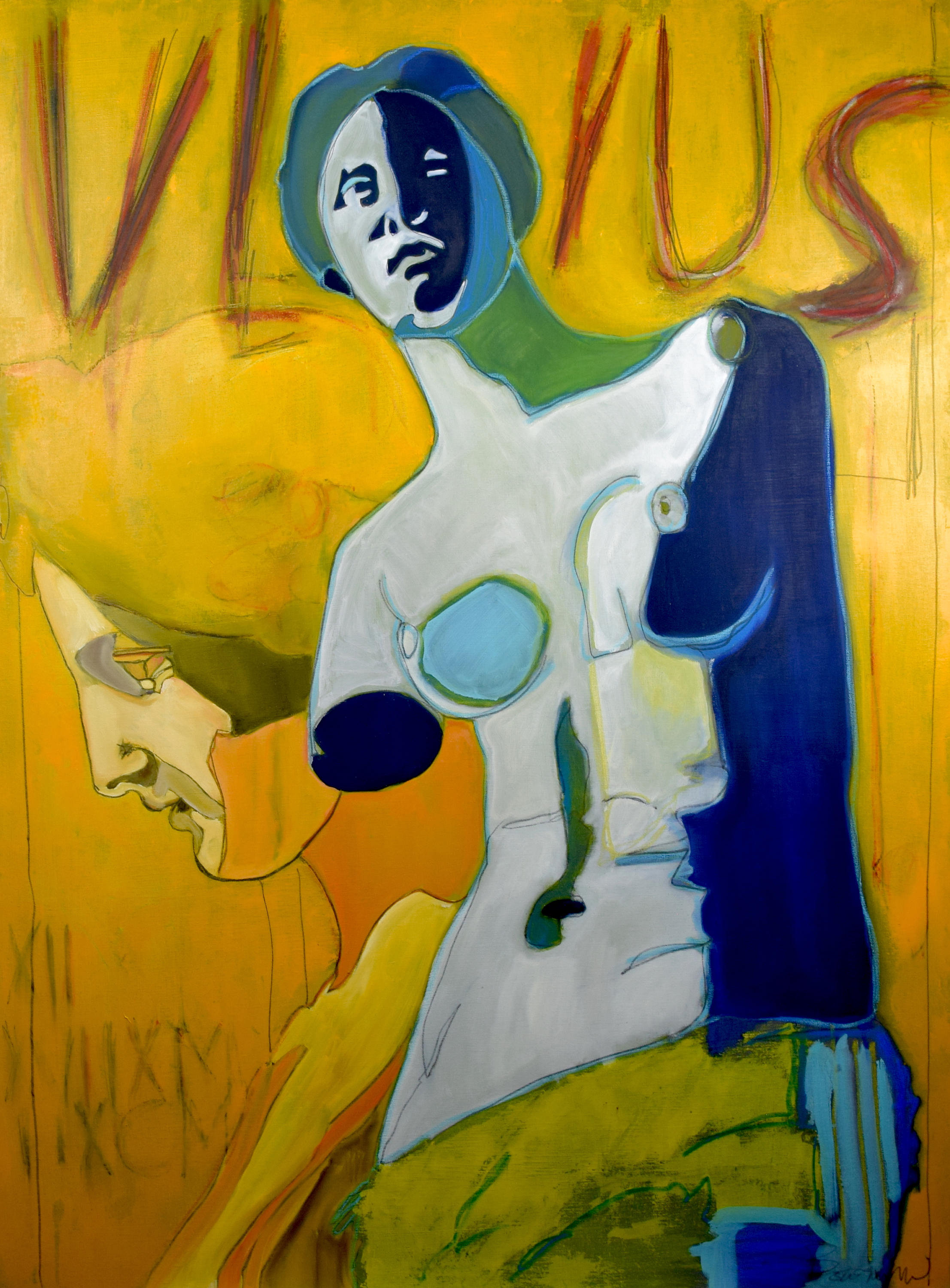 Details
TITLE // Chasing the Gods ARTIST // Jeffrey Bowman
SIZE // 36" x 48" x 1"
MEDIUM // oil. graphite. on canvas

If you purchase this piece, we'll create a character for you in Circaeus. Additional details upon request.

This piece is signed and dated on the back. It is fitted with mounting wire and ready to hang in your home.

Thank you for your interest and support!

________

The yellow piece hung in the middle. Dye told me his love of Cy Twombley often, and in 1975 he did a drawing titled "Venus." The handwriting of Cy is unmistakable. Dye told me he practiced writing Venus for weeks before he applied it to the canvas. The main structure of the piece is of Aphrodite or the "Venus de Milo." The white marble replaced by vibrant yellow and blue highlights. It also reminds me of Twombley's final series of paintings. Dye walked up to the piece and pointed at the woman's figure. He explained, "This area below the belly button killed me, destroyed me. I remember my art teacher talking about the sculpture, and I couldn't stop looking at the long stretch of skin, the potent hips of Aphrodite. My classmates didn't understand my fluster; they made fun of me for having a crush on marble. I didn't care. I already loved Medusa. I chased gods while they flirted with girls. Her hips and classic face of the Greek gods was enough to make an imprint on my fabric and will forever be a muse for me."

I thought about what Dye said, that he chased gods while others flirted with girls. I thought about an awkward child not understanding the true nature of relationships and the likely hood that adults rarely do. Why shouldn't we chase gods? Failure is the folklore of the weak. When you stumble and fall, you don't lay there and give up on walking. You get up and continue. You don't see it as a failure. Because the destination is more important than the walking, we need better targets. We should be forever, "Chasing the Gods."
Payments
Paypal payments and Etsy gift cards are preferred, but money orders and personal checks are accepted with additional processing time (approximately 10 business days).
Shipping from United States
// Packaging //

For buyers in the United States, stretched canvas paintings are carefully wrapped in glassine paper and bubble wrap, then packed securely in custom-built boxes (using recycled materials when possible) for shipping within 3-5 days of order.

For international buyers, stretched canvas paintings will be removed from the frame, carefully wrapped in glassine paper and plastic, and shipped in a tube within 3-5 days of order. Your local fine art framing specialist can provide options for hanging the work, from re-stretching to custom framing.

// Shipping //

Depending on location, artwork will be shipped via UPS, USPS, or FedEx with sufficient insurance and tracking. Your signature will be required to confirm delivery.

International buyers will be responsible for paying any applicable customs fees, taxes, or duties in their respective countries.


Refunds
Buyer satisfaction is very important to me and I am prepared to do whatever is necessary to ensure you are happy with your purchase.

If we cannot resolve any issues that arise with your order, we will accommodate cash or credit refunds within 10 days of purchase receipt. Buyers would be responsible for the safe return shipping of the artwork within 10 days before a return is processed.
Additional
Item photography attempts to replicate the colors, textures, and sheen of the artwork as accurately as possible, but please be advised that slight variations may exist when viewing these works in person.