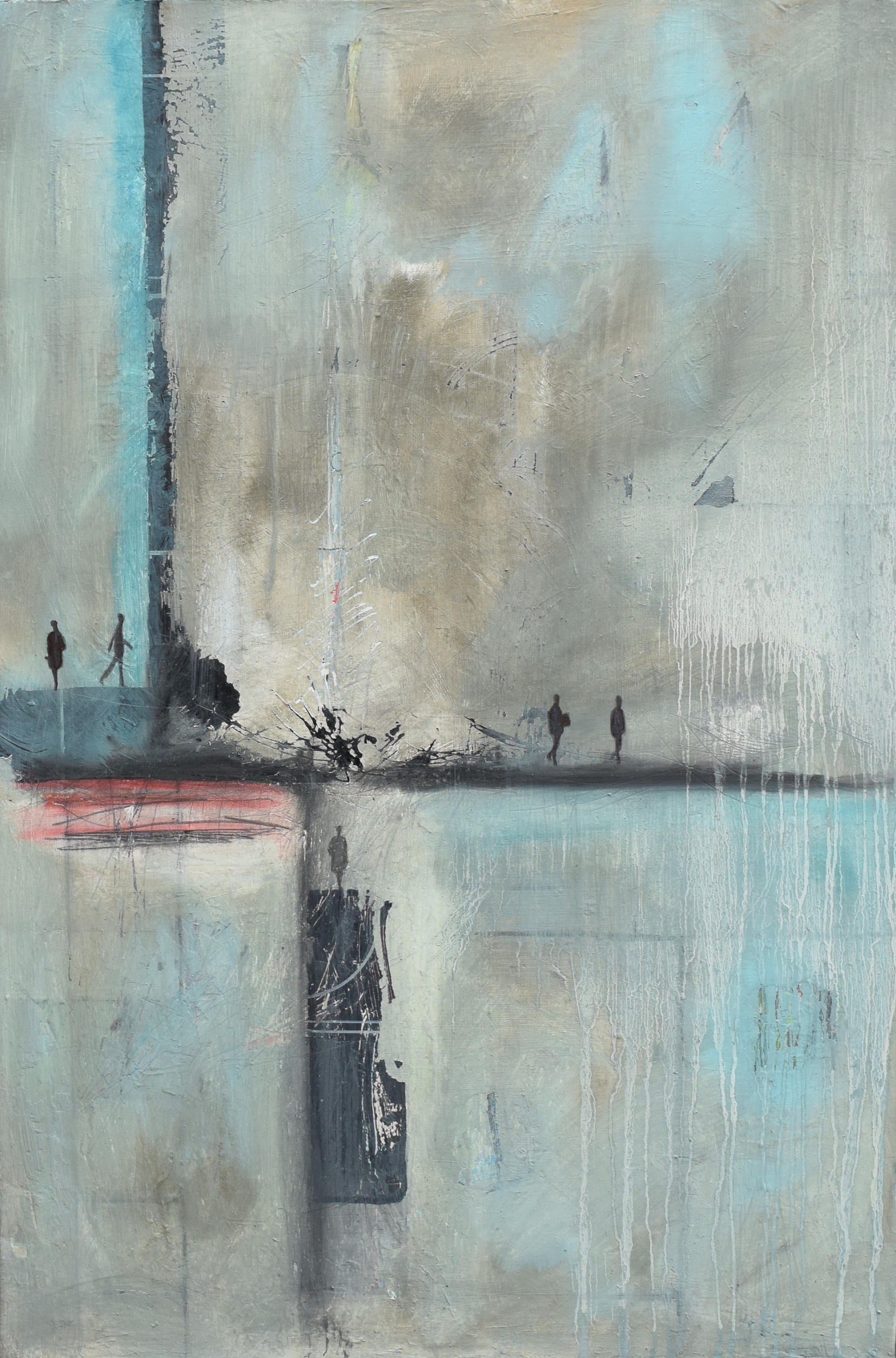 The Second Window
$400.00
Details
TITLE //The Second Window
ARTIST // Jeffrey Bowman
SIZE // 36" x 24" x 1.5"
MEDIUM // mixed media on canvas

If you purchase this piece, we'll create a character for you in Circaeus. Additional details upon request.

This piece is signed and dated on the back. It is fitted with mounting wire and ready to hang in your home.

Thank you for your interest and support!

________

Dye didn't wait long before studying the second window. I felt satisfaction knowing he felt the same menacing presence peering through our window. I pulled up the chair far enough behind him to be out of the way and took out my notepad. I needed a scope. I looked to find Maker. I mimicked looking through a scope, hoping he would pull one out of his bag. He cringed up his face and slowly shook his head, no.

The room was tense, this felt more like a stakeout than watching someone paint. We didn't talk to each other; we used hand signs. Maker felt our seriousness. The immaturity of the cult was gone, horribly calm. The feeling was professional, seriously professional. Hummer pulled his recording device from the other window and slithered up to the second window. Without looking placed the device over his head and let it peak out of the corner of the window. Dye worked fast; he was the only one in the open. He used a small canvas, that saved time. His work, however, didn't show the time restraint or the danger he faced. Thinking back now, I can't remember any real threat. It's all feeling. Dye was the sniper, and we backed his play.

He would peak over his canvas and take in the all the detail he could before retreating behind the security of the canvas and document. The dark blue that rained over the decayed building achieved with pouring spirits and his other alchemical mixtures. He quickly painted green graffiti only to cover it with different washes. The years of aging executed in a matter of minutes.

He cut into the gesso, let the watery pigment run into the cracks. A dark splash of red for the haunting red light that cut through the haze that surrounded the building. The two windows were mere feet apart, but you couldn't tell that by looking out them. It was a different world on that side of the street. Dye made it believable. We all watched him work, occasionally looking at each other smiling. Hummer sat with his back against the window's wall the entire time. His eyes closed, hoping to seize something in the silence. He would let us know after spending hours behind his console turning random knobs.

Dye backed away from his painting. We all moved to allow his ritual. Hummer pulled his device out of the window and quickly closed the drapes. The mission was over, thank the gods.


-- Ready for translation.
Payments
Paypal payments and Etsy gift cards are preferred, but money orders and personal checks are accepted with additional processing time (approximately 10 business days).
Shipping from United States
// Packaging //

For buyers in the United States, stretched canvas paintings are carefully wrapped in glassine paper and bubble wrap, then packed securely in custom-built boxes (using recycled materials when possible) for shipping within 3-5 days of order.

For international buyers, stretched canvas paintings will be removed from the frame, carefully wrapped in glassine paper and plastic, and shipped in a tube within 3-5 days of order. Your local fine art framing specialist can provide options for hanging the work, from re-stretching to custom framing.

// Shipping //

Depending on location, artwork will be shipped via UPS, USPS, or FedEx with sufficient insurance and tracking. Your signature will be required to confirm delivery.

International buyers will be responsible for paying any applicable customs fees, taxes, or duties in their respective countries.


Refunds
Buyer satisfaction is very important to me and I am prepared to do whatever is necessary to ensure you are happy with your purchase.

If we cannot resolve any issues that arise with your order, we will accommodate cash or credit refunds within 10 days of purchase receipt. Buyers would be responsible for the safe return shipping of the artwork within 10 days before a return is processed.
Additional
Item photography attempts to replicate the colors, textures, and sheen of the artwork as accurately as possible, but please be advised that slight variations may exist when viewing these works in person.