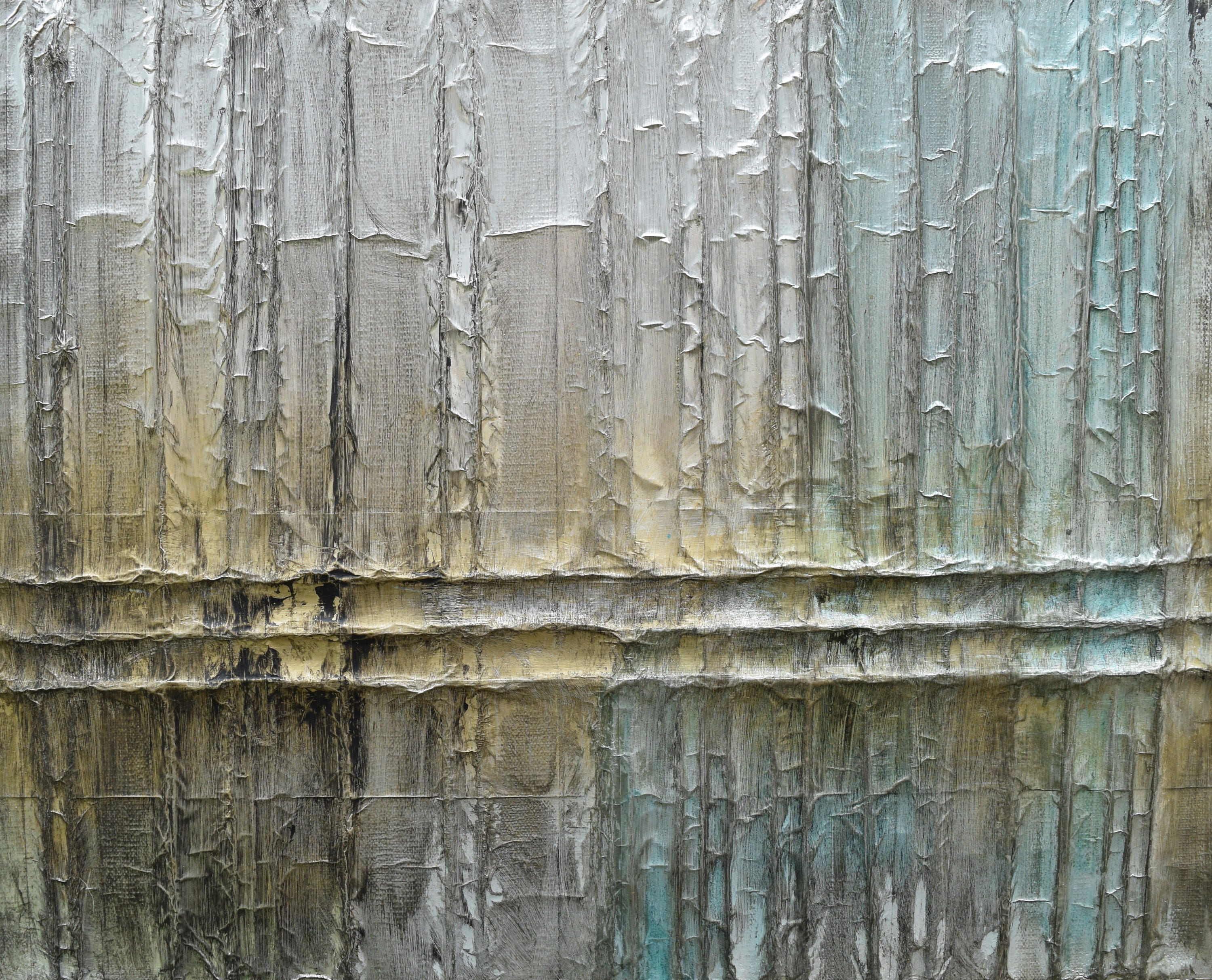 The Phoegos Lines
$300.00
Details
TITLE // The Primer
ARTIST // Jeffrey Bowman
SIZE // 16" x 20" x 1.5"
MEDIUM // mixed media on canvas

This piece is signed and dated on the back. It is fitted with mounting wire and ready to hang in your home.

If you purchase this piece, we'll create a character for you in Circaeus. Additional details upon request.

Thank you for your interest and support!

________

We could see the lights of a city over a small group of hills. The lights seemed to break through the walls of darkness that until now have been standing tall and just. Wizard noticed me looking at them. He broke away from the line we seem to form while traveling. He too saw the lights although he didn't seem as interested as I did. I asked him if he knew those particular lights. He looked around as if for the first time. We had been traveling for days, and until now, I thought there was a reason. He mumbled something about three walls, whatever it was it wasn't a name of any city I've heard. A simple answer would be too easy for this cult.

He stopped just before our path started to zig-zag around some sharply pointed foothills. He turned to us, "Good?". We replied by dropping our bags. Wizard looked worried, hard to tell though. He sometimes tries to look the part of the theme that will undoubtedly be tonight's entertainment. Perhaps our wizard secretly dreams of being an actor?He talked about fear, hatred, illusions, and the ability to harness the magic it takes to know the difference. Tonight's overture seems bleak.

Phoegos is a sphere that is apparently "still too close to us." He calls it, the fear planet. During his apprenticeship, Wizard had to identify his fear and the source of all his hatred. This task was apparently an epic quest that took some time. He spares us the gruesome details. He quickly gets back on track. I often wonder what that weirdly twisted road he would call "track" looks like to him.

He went on to say the task of forcing all fear from his mind on to that sphere was the first step in understanding and defining his magic. That fear is a formable opponent that we all must face eventually, hopefully. That fear never truly dies, and shouldn't. That fear transforms into something else, it merely transforms. Some call it wisdom, experience, Wizard calls it "the good stuff."

He slowly slipped into the abstract. The tone was heavy, but he seemed light and giddy. He drew lines in the sand with this staff. We all gathered around and adjusted ourselves to see the lines from his perspective. He explained that the sphere's landscape was different types of metal. Shields welded together to make more magnificent shields. Protection wasn't something taken lightly on Phoegos. I asked about the need of all of this security. The answer was, fear. He explained, "fear is war, war is fear, the planet is war materialized. The greatest war will undoubtedly happen there. Their metal landscapes protect them, and it's under that protection that allows them to continue that war, in peace."

I looked up towards the sky. It was confusing as always. Things seemed to be moving in a chaotic order tonight, made me seasick. I asked him to point to the source. He smiled and told me he had something better. The others started moving around. I got out of the way, found a comfortable distance from them. The amount of space they take up is astounding. In a matter of minutes, your feet are covered with material and even wires if Hummer is involved.

It only took Maker about five hours to produce a small rectangle for Dye. Dye then added a few more hours of work to the piece. The three lines resembled the markings Wizard made with his staff. The material they used was almost reflective and matched Wizard's description perfectly. I held the small piece in my hand and searched for any amount of light that I could to play with using the reflective material. Maker created a light source that allowed me to see more detail. I was about to ask Maker about his ability to suddenly create light when Wizard invited us to sit in a circle.

We often meditated together and I thought now was a good enough time as any. This talk of fear gave my mind inspiration to start materializing these mysterious foes. We sat close to one another. The rectangle placed in the middle of us. I am not sure if we held hands because when I closed my eyes, none of that mattered. It was electric. It was an electric vision. We were flying over this new piece that was now the center of our focus. The sounds were heavy. Hummer was at work.

The echoes heard sounded as if they were coming from underneath the metal landscape. The blacksmith's anvil never rested on this planet. The hammering sounded like an orchestra of drums. The pulse acted as the foundation for a strange melody. The source was unknown but served as the soundtrack for our vision. The sound bounced all around my head. The piece had changed, or maybe we had changed. The scale was now accurate. We have astral projected to the landscape of Phoegos. I reached out and grabbed a nearby hand; I could feel the glue on the fingers. Maker squeezed my hand gently. That made me feel better.

The lines now looked more like pathways. Long straight lines rose up from its metal layers. Long hallways for soldiers or maybe supply lines for the armory. They were well protected. The metal made everything look bright and almost welcoming. However, the depth of what I was hearing added to the heaviness of the thought of war. Fear, a truly formable opponent. We flew over the piece for several minutes before the vision went black.

We opened our eyes, and Wizard was already gathering his things. The article was wrapped and placed in his satchel. He was happy, going on about what we all had hopefully seen. I sometimes wonder if our individual experience is the collective one. The others began putting their things away; I started making my own mess.

-- Ready for translation.
Payments
Paypal payments and Etsy gift cards are preferred, but money orders and personal checks are accepted with additional processing time (approximately 10 business days).
Shipping from United States
// Packaging //

For buyers in the United States, stretched canvas paintings are carefully wrapped in glassine paper and bubble wrap, then packed securely in custom-built boxes (using recycled materials when possible) for shipping within 3-5 days of order.

For international buyers, stretched canvas paintings will be removed from the frame, carefully wrapped in glassine paper and plastic, and shipped in a tube within 3-5 days of order. Your local fine art framing specialist can provide options for hanging the work, from re-stretching to custom framing.

// Shipping //

Depending on location, artwork will be shipped via UPS, USPS, or FedEx with sufficient insurance and tracking. Your signature will be required to confirm delivery.

International buyers will be responsible for paying any applicable customs fees, taxes, or duties in their respective countries.


Refunds
Buyer satisfaction is very important to me and I am prepared to do whatever is necessary to ensure you are happy with your purchase.

If we cannot resolve any issues that arise with your order, we will accommodate cash or credit refunds within 10 days of purchase receipt. Buyers would be responsible for the safe return shipping of the artwork within 10 days before a return is processed.
Additional
Item photography attempts to replicate the colors, textures, and sheen of the artwork as accurately as possible, but please be advised that slight variations may exist when viewing these works in person.