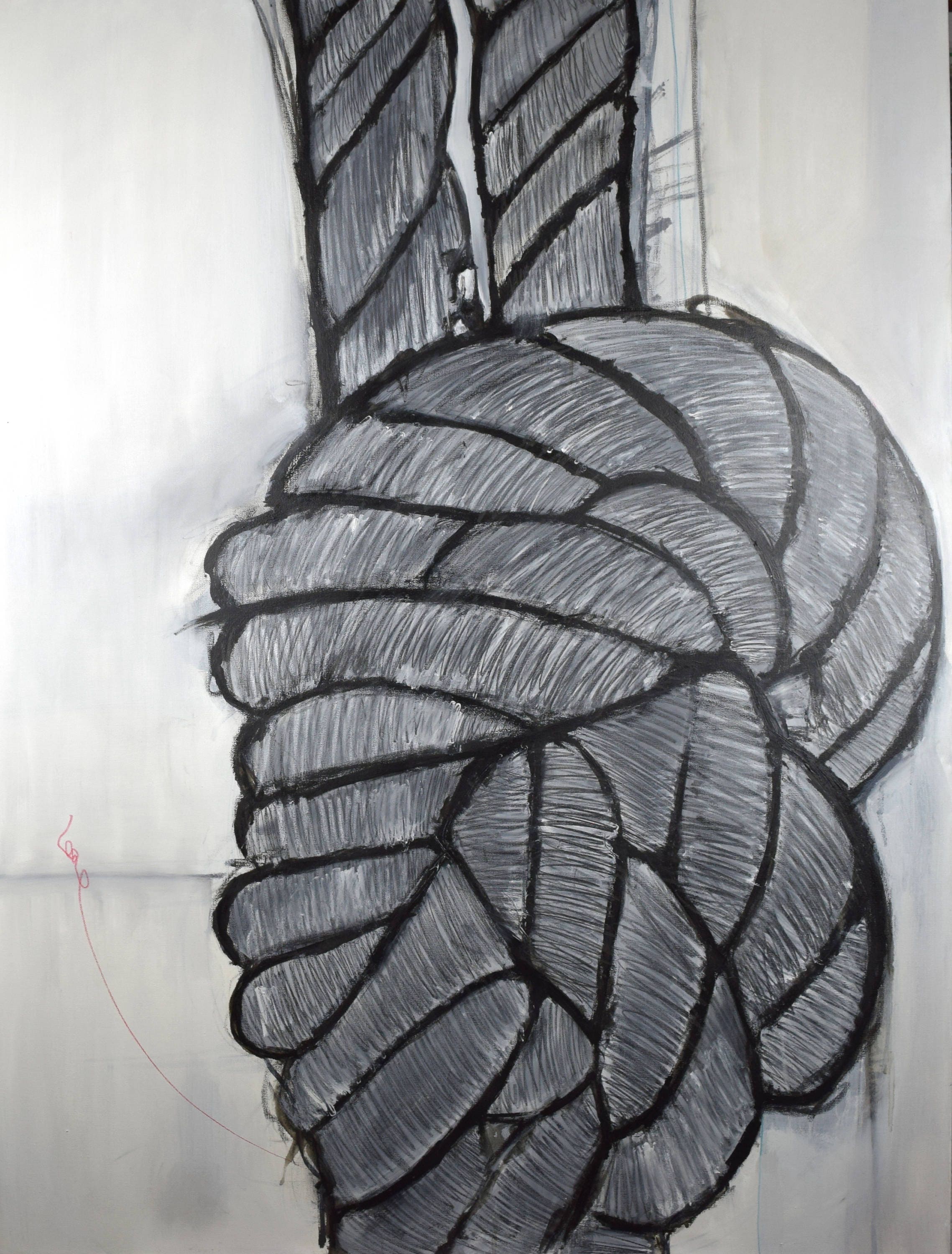 The First Intention
$750.00
Details
TITLE // The First Intention
ARTIST // Jeffrey Bowman
SIZE // 48" x 36" x 1.5"
MEDIUM // oil and graphite on gallery wrapped canvas

This piece is signed, fitted with mounting wire, and ready to hang in your home.

If you purchase this piece, we'll create a character for you in Circaeus. Additional details upon request.

Thank you for your interest and support!

________

The Witch leaned back in her chair and softly shook her head freeing the gorgeous mane of black hair out from her hooded cloak. I could feel my cheeks turn red. Thankfully, being brown helps hide that sort of embarrassment. I leaned in with my questions ready, and she stopped me. She took out a piece of rope and said, "Tie a knot in this string. Be something more than habit and reaction. When you tie it, do it with purpose. Think of your questions but more importantly open your mind and spirit to receive the answers. Magic at its core is the intention. So, go on and tie your knot Scribe, make your mark, and accept your destiny." I tried to look heroic. You are never ready to hear someone say, "accept your destiny." My hero's face is out of practice.

I made my knot. I was ready and willing to accept it all. Going all in has never been difficult for me. I find most injuries happen when you try to brace yourself. Accept the impact of life. Let it come over you. Bend like the saplings of the green dancing in the windstorm. If you're not bending, you're breaking. I reached out to hand the string back to Madam Nesting. She said, "Keep it and may it always remind you of your first step towards a life of magic." I felt the warmth of the others sitting at the table. The children of the green sat with a mature rigid back and welcomed me into their world of illusion and intentions. Dye assured me that the moment would be captured and documented. He said, "They will know it as The First Intention."
Payments
Paypal payments and Etsy gift cards are preferred, but money orders and personal checks are accepted with additional processing time (approximately 10 business days).
Shipping from United States
// Packaging //

For buyers in the United States, stretched canvas paintings are carefully wrapped in glassine paper and bubble wrap, then packed securely in custom-built boxes (using recycled materials when possible) for shipping within 3-5 days of order.

For international buyers, stretched canvas paintings will be removed from the frame, carefully wrapped in glassine paper and plastic, and shipped in a tube within 3-5 days of order. Your local fine art framing specialist can provide options for hanging the work, from re-stretching to custom framing.

// Shipping //

Depending on location, artwork will be shipped via UPS, USPS, or FedEx with sufficient insurance and tracking. Your signature will be required to confirm delivery.

International buyers will be responsible for paying any applicable customs fees, taxes, or duties in their respective countries.


Refunds
Buyer satisfaction is very important to me and I am prepared to do whatever is necessary to ensure you are happy with your purchase.

If we cannot resolve any issues that arise with your order, we will accommodate cash or credit refunds within 10 days of purchase receipt. Buyers would be responsible for the safe return shipping of the artwork within 10 days before a return is processed.
Additional
Item photography attempts to replicate the colors, textures, and sheen of the artwork as accurately as possible, but please be advised that slight variations may exist when viewing these works in person.