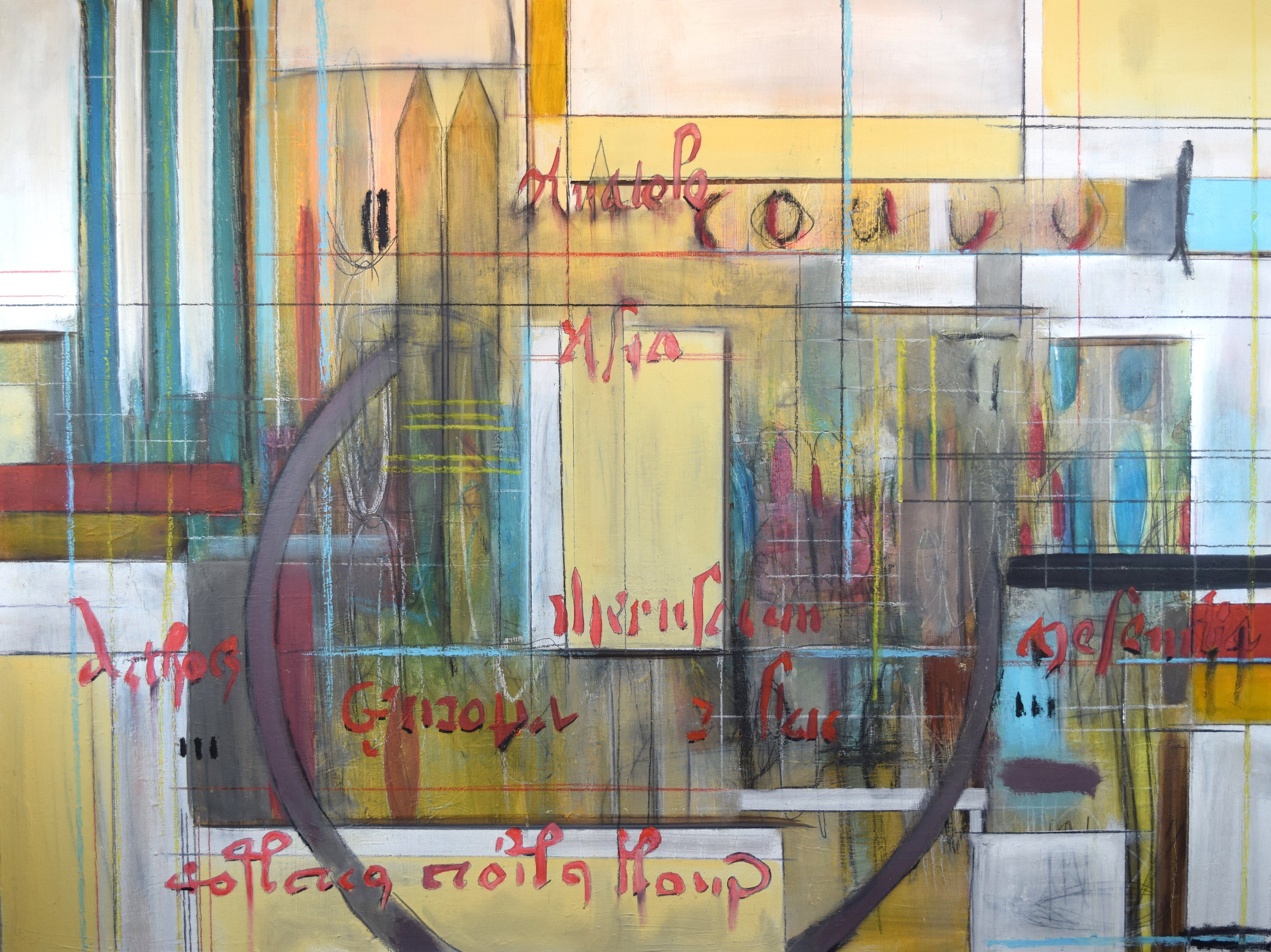 Details
TITLE // Coating the Arms ARTIST // Jeffrey Bowman
SIZE // 48" x 36" x 1"
MEDIUM // oil. graphite. on canvas

If you purchase this piece, we'll create a character for you in Circaeus. Additional details upon request.

This piece is signed and dated on the back. It is fitted with mounting wire and ready to hang in your home.

Thank you for your interest and support!

________

Shortly after breakfast Wizard was heard yelling from another part of the castle, his voice was echoing down the empty halls and made whatever he was saying sound less frantic than his usual tone. We played something similar to Marco Polo before we finally found him. He had managed to find a room we had all overlooked. This space was secretive and resembled something formal or having a military purpose. The entrance was through a false back cabinet. Maker acted like a dramatic narrator as we entered the room. He used one of his accents, "The adventurers found a suspicious cabinet, could this be a secret entrance?" We all giggled as we squeezed our fat bodies through the old oak cabinet.

Wizard was looking at something resembling a puzzle. Dye immediately recognized the piece. He walked over to the painting, "This was another contract, their coat of arms. I was questioning the fact it was so small, and it didn't resemble their crest that hung in the main hall. However, something has happened to it. The painting has morphed. These markings here.." Dye pointed at a strange grouping of words. The language was very unfamiliar with nothing I have ever seen. Dye continued, " This lettering reminds me of the manuscripts. These markings here are also new, but it resembles my stroke. This painting has been touched by magick."
Payments
Paypal payments and Etsy gift cards are preferred, but money orders and personal checks are accepted with additional processing time (approximately 10 business days).
Shipping from United States
// Packaging //

For buyers in the United States, stretched canvas paintings are carefully wrapped in glassine paper and bubble wrap, then packed securely in custom-built boxes (using recycled materials when possible) for shipping within 3-5 days of order.

For international buyers, stretched canvas paintings will be removed from the frame, carefully wrapped in glassine paper and plastic, and shipped in a tube within 3-5 days of order. Your local fine art framing specialist can provide options for hanging the work, from re-stretching to custom framing.

// Shipping //

Depending on location, artwork will be shipped via UPS, USPS, or FedEx with sufficient insurance and tracking. Your signature will be required to confirm delivery.

International buyers will be responsible for paying any applicable customs fees, taxes, or duties in their respective countries.


Refunds
Buyer satisfaction is very important to me and I am prepared to do whatever is necessary to ensure you are happy with your purchase.

If we cannot resolve any issues that arise with your order, we will accommodate cash or credit refunds within 10 days of purchase receipt. Buyers would be responsible for the safe return shipping of the artwork within 10 days before a return is processed.
Additional
Item photography attempts to replicate the colors, textures, and sheen of the artwork as accurately as possible, but please be advised that slight variations may exist when viewing these works in person.