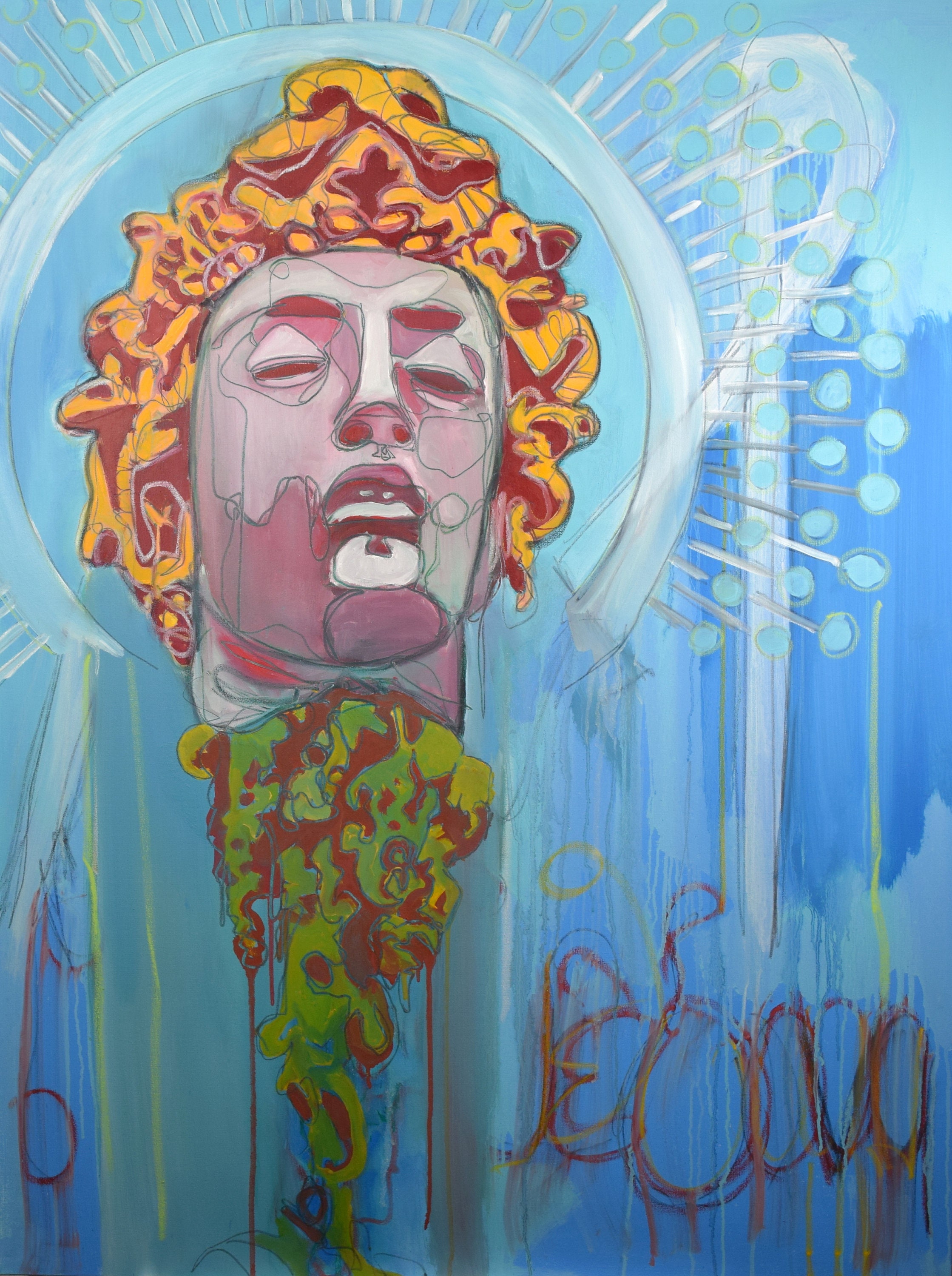 Details
TITLE // All Hail Medusa! ARTIST // Jeffrey Bowman
SIZE // 36" x 48" x 1"
MEDIUM // oil. graphite. on canvas

If you purchase this piece, we'll create a character for you in Circaeus. Additional details upon request.

This piece is signed and dated on the back. It is fitted with mounting wire and ready to hang in your home.

Thank you for your interest and support!

________

I remember Dye telling me about his first crush, Medusa. The idea of an awkward kid falling for such a creature is amazingly hopeless. The notion that he wouldn't turn to stone because she would be able to see his love for her is that child's truth, that naiveness. I'm not confident that he has changed his mind. Over forty years of failure, heartbreak, and experiencing life's tragic disregard he is still hoping that a creature will be able to see his truth. She is the monster and his hero. We are all monsters.

reflections in the polished
pillars of stone embrace the stricken
clammy hands and a dry mouth
movements without the gate
a woman cursed

life's bitter symphonic gesture
a coldness only found in stone
willing to fail is the champion
giving into the myth
becoming a legend
"All Hail Medusa!"
Payments
Paypal payments and Etsy gift cards are preferred, but money orders and personal checks are accepted with additional processing time (approximately 10 business days).
Shipping from United States
// Packaging //

For buyers in the United States, stretched canvas paintings are carefully wrapped in glassine paper and bubble wrap, then packed securely in custom-built boxes (using recycled materials when possible) for shipping within 3-5 days of order.

For international buyers, stretched canvas paintings will be removed from the frame, carefully wrapped in glassine paper and plastic, and shipped in a tube within 3-5 days of order. Your local fine art framing specialist can provide options for hanging the work, from re-stretching to custom framing.

// Shipping //

Depending on location, artwork will be shipped via UPS, USPS, or FedEx with sufficient insurance and tracking. Your signature will be required to confirm delivery.

International buyers will be responsible for paying any applicable customs fees, taxes, or duties in their respective countries.


Refunds
Buyer satisfaction is very important to me and I am prepared to do whatever is necessary to ensure you are happy with your purchase.

If we cannot resolve any issues that arise with your order, we will accommodate cash or credit refunds within 10 days of purchase receipt. Buyers would be responsible for the safe return shipping of the artwork within 10 days before a return is processed.
Additional
Item photography attempts to replicate the colors, textures, and sheen of the artwork as accurately as possible, but please be advised that slight variations may exist when viewing these works in person.